FOR IMMEDIATE RELEASE
Seattle Tilth Receives $76,000 from Wells Fargo "Environmental Solutions for Communities" Grant Program
Funding supports work to improve water quality and wildlife habitat while providing employment and life skills training for homeless and low-income youth
Seattle Tilth wins major enviro grant from Wells Fargo for Seattle Youth Garden Works.
Jun 10, 2014
[Seattle, WA] – This week, Seattle Tilth received a $76,000 Wells Fargo "Environmental Solutions for Communities" grant. Seattle Tilth was selected among 54 environmental nonprofits that received grant dollars totaling $3 million, supporting projects focused on land and water conservation, energy efficiency, infrastructure and educational outreach in communities across America.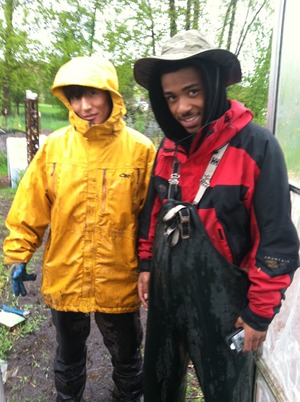 "We are absolutely thrilled to receive this support for our environmental improvement efforts in critical areas throughout Seattle," said Andrea Dwyer, Seattle Tilth's executive director. "This grant is especially powerful in that it makes it possible for homeless and low-income youth to gain important job and life skills."

The Wells Fargo "Environmental Solutions for Communities" grant program began in 2012 as part of Wells Fargo's commitment to provide $100 million to environmentally-focused nonprofits and universities by 2020. It is funded by the Wells Fargo Foundation with a $15 million, five-year commitment to promote environmental stewardship across the country.

The program funds proposals in select cities/regions that help address the most pressing environmental issues identified by each participating community. In Seattle, this funding will make it possible for Seattle Tilth to employ a workforce of several dozen homeless and low-income youth in Seattle Youth Garden Works, a year-long program where youth gain skills in sustainable agriculture and environmental restoration. The youth are engaged in all aspects of organic farming, from composting and soil-building to planting, harvesting and selling organic produce at local farmers markets. They will also identify and remove invasive plant species, sheet mulch for invasive control and plant native perennials.

Administered by the National Fish and Wildlife Foundation, the 2013 Wells Fargo "Environmental Solutions for Communities" grants collectively helped reduce more than 3 million pounds of CO2, which is the equivalent to averting consumption of 8,535 barrels of oil. The program also planted 132,709 trees and restored more than 1,600 acres of habitat. These projects have trained 150 people in "green" jobs, while engaging more than 689,000 community members in the supported environmental grant programs.

"We believe that helping our communities become more resilient and better stewards of the environment will improve the long-term quality of life of our customers and team members," said Mark Dederer, Wells Fargo's Washington Community Affairs manager. "We're proud to support Seattle Tilth with both grant dollars and support from our local team members."

"Through our collaboration with Wells Fargo and their commitment to community-based efforts, this investment will support a total of 54 projects, and conservation efforts will take place in cities and towns across America," said Jeff Trandahl, Executive Director and CEO of National Fish and Wildlife Fund. "The experience will be an opportunity for participants in these communities to personally contribute to a more sustainable future, which would not be possible without Wells Fargo's long-term commitment to the 'Environmental Solutions for Communities' program."

Details of the program and a link to the 2015 application (available in September 2014) can be found at the National Fish and Wildlife Federation website. Projects benefiting underserved communities and encouraging volunteerism are given priority consideration.

About Seattle Tilth
Seattle Tilth inspires, teaches and empowers people to grow and harvest food in a manner that builds a healthy, thriving community and environment. We believe that all people deserve access to healthy, nutritious food and that changing the way in which we grow, cook and eat food has the potential to transform people's lives as well as the communities in which we live. Seattle Tilth has emerged as a regional leader in utilizing urban spaces for growing food for our community while creating new opportunities for people with limited resources. Find out more at www.seattletilth.org.

About Wells Fargo
Wells Fargo & Company (NYSE: WFC) is a nationwide, diversified, community-based financial services company with $1.5 trillion in assets. A leader in reducing its own greenhouse gas emissions and operating sustainably, Wells Fargo has been recognized by the U.S. Environmental Protection Agency's Center for Corporate Climate Leadership, the Carbon Disclosure Project and the U.S. Green Building Council. Since 2005, Wells Fargo has provided more than $28 billion in environmental finance, supporting sustainable buildings and renewable energy projects nationwide. For more information, please visit: www.wellsfargo.com/about/csr and the Wells Fargo Environmental Forum.

###
Document Actions