FOR IMMEDIATE RELEASE
Get Started Growing Your Own Food at May Edible Plant Sale
Tilth Alliance Offers Largest Selection in the Region May 6-7
Apr 19, 2017
[Seattle] Have you heard that Americans need less screen time and more fresh air, fresh food and exercise? Growing food is the perfect remedy! Studies show that gardening provides many benefits such as reduction in stress, improved diets, better sleep and improved health. It can also provide a meaningful connection to the land, other people and healthy food, leading to an overall improved sense of wellness.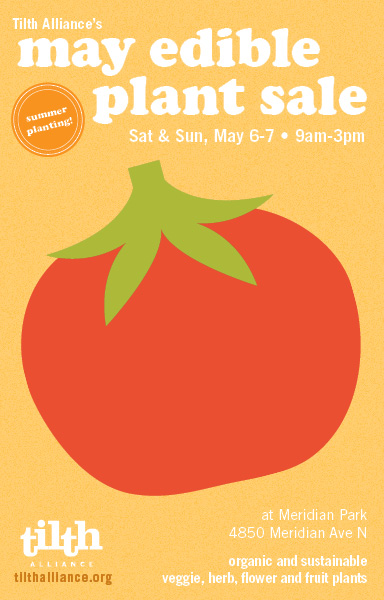 At Tilth Alliance's May Edible Plant Sale, shoppers can choose from the largest selection of edible plants in the region. It's on Saturday and Sunday, May 6-7, 9 a.m.-3 p.m., at Meridian Park (4850 Meridian Ave. N., Seattle).

This community event features over 70,000 organically and sustainably grown plants that are specially chosen by Tilth Alliance's gardeners and farmers because they are well-adapted to thrive in our Pacific Northwest climate. Shoppers will find:
More than 350 plant varieties including many heirlooms and hard-to-find plants
Easy plants for beginning gardeners such as lettuces, arugula, kale, Asian greens and strawberries

Favorite summer crops

that love full sun such as tomatoes, peppers, cucumbers, squash and melons

Chefs' favorites

such as sweet and spicy peppers, edible flowers, bulbing fennel and dozens of herbs

Fruits, glorious fruits

: blueberries, raspberries, strawberries, plums, figs, Asian pears, kiwis and many more

A rainbow of colors

including red radicchio, purple onions,

yellow carrots and

rainbow chard

Pollinator plants

to support the important work of insects and birds in our gardens and ecosystems
Check out Hot Tips with information to know before you go.


Learn with Us
New to gardening or eager to learn more? No problem! Garden and farm educators will be on hand to answer questions about plants, and shoppers can learn organic gardening techniques at the demonstration tent. Gardening books will also be for sale at the Tilth Alliance booth (and worms!).

Vendor Area
Several vendors will be participating, located in the lower field outside of the main sale. Burnt Ridge Nursery will offer a large and unique selection of edible and native shrubs, trees and vines. There will also be food, gardening supplies and a chicken meet-and-greet offered by Stone Soup Gardens.

Early Bird Sale on Friday
If you want first pick of the plants and to help raise extra funds for Tilth Alliances's farm and garden education programs, buy a ticket to the Early Bird Sale.

Volunteer
The event relies on more than 400 hard working community members to volunteer to help the event run smoothly. Sign-up to volunteer for a shift (or two!) and attend the Early Bird Sale at no cost.


Thanks for Your Support
All sales support Tilth Alliance's farm and garden education programs, building a sustainable and equitable local food future for all. Big thanks to our sponsors Cedar Grove, Northwest Flower & Garden Show and Big Dipper Wax Works. See you May 6-7!

May Edible Plant Sale
Saturday and Sunday, May 6-7
9 a.m.-3 p.m.
Meridian Park
4850 Meridian Ave. N., Seattle
Get directions.


# # #

Spread the Word!

Join the Facebook event and invite your friends.

Facebook Post
Grow tasty fresh food! Stock up on veggie, herb, flower and fruit plants, plus pollinator flowers, May 6-7 at #MayEdiblePlantSale. Plants are locally, organically and sustainbly grown.
http://bit.ly/2pCHXog

Tweet
Grow food! Get plants! Veggie, herb, flower & fruit plants May 6-7 @TilthAlliance #MayEdiblePlantSale. http://bit.ly/2pCHXog
###
Document Actions