FOR IMMEDIATE RELEASE
Get Crisp Spring Crops at March Edible Plant Sale on March 14
Choose from a large selection of organically grown edible plant starts perfect for spring planting.
Feb 12, 2015
Get ready for spring gardening! Our Puget Sound region has a maritime climate that's perfect for early planting. Getting started early is a great way to increase how much food you can harvest this year.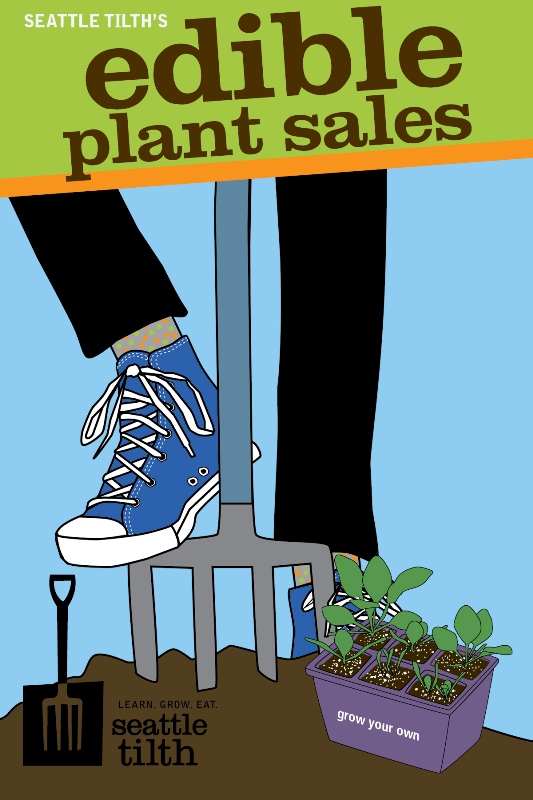 Seattle Tilth kicks off spring gardening season with our March Edible Plant Sale on Saturday, March 14, 9 a.m.-3 p.m. at the Pacific Market Center garage (6100 4th Ave. S., Seattle). This event focuses on organically grown spring edible plant starts, from veggies, herbs and fruits to edible flowers and fruit trees.

Dig Into Urban Agriculture
Seattle Tilth is known for its educational programs for adults and kids in sustainble urban agriculture. At the sale, our garden educators will present workshops and answer gardening questions. Organic gardening supplies will be available, including Cedar Grove compost and potting soil, organic seeds, worms for vermicomposting, books and cloche kits.
WORKSHOPS
11 a.m. Grow Successful Asparagus and Rhubarb with Anthony Reyes
12 p.m. Build Your Best Salad Mix with Carey Thornton
1 p.m. Companion Planting with Falaah Jones
Our plants are grown locally using organic and sustainable practices -- healthy for you and the environment. Visit our website for a full list of plants and to learn more about our growers.

Our plant selection includes:
Easy-to-grow plants for beginners such as lettuce, greens and peas

Hard to find plants including asparagus, artichokes and rhubarb

Rare and heirloom varieties

Nutritious powerhouses such as collards, kale, spinach and Swiss chard

Sweet and sour delights like strawberries, blueberries and fruit trees

Foodie favorites such as culinary herbs, asian greens and edible flowers
Participate
The community is invited to get involved at this community event!
Seattle Tilth's March Edible Plant Sale
Saturday, March 14
9 a.m.-3 p.m.
Pacific Market Center garage
6100 4th Ave. S., Seattle
Plenty of parking!
Get directions.
Visit our website.
Take full advantage of spring gardening and come to our March Edible Plant Sale on March 14!
###
Document Actions