FOR IMMEDIATE RELEASE
March Edible Plant Sale Helps Seattleites Grow Spring Gardens
Join Tilth Alliance and Hundreds of Gardeners March 18 in Rainier Valley
Tilth Alliance (formerly Seattle Tilth) offers more than 250 veggie, fruit, culinary herb and flower plants for sale on March 18.
Mar 09, 2017
Is it really time to garden already? Short answer: yes! March is a great month in the Pacific Northwest to begin planting an edible garden to enjoy all year round. Many plant varieties can be planted in early spring and it's easier to keep them watered than it is during summer months.

At Tilth Alliance's March Edible Plant Sale you can stock up for garden season, and enjoy the festive event atmosphere. Find vegetable, herb and fruit plants, as well as edible flowers and fruit trees – more than 250 different varieties perfect for spring gardening. The March Edible Plant Sale is on Saturday, March 18, 9 a.m.-3 p.m. at Orca K-8 (5215 46th Ave S, Seattle 98118 -- new location!).


Choose Great Plants
Tilth Alliance garden experts have carefully selected plant varieties that are great for growing conditions in the Puget Sound region. They have been organically, sustainably and locally grown -- healthy for eaters, growers and the earth. The selection of plants includes:
The largest selection in the region of organic edible plant starts for spring gardening (19,000 plants!)
Easy-to-grow vegetables for beginners such as lettuce, greens and peas
Unique plant varieties that are not sold locally
Nutrition powerhouses such as collards, kale, spinach and chard
Sweet delights like strawberries, blueberries and a wide selection of fruit trees
Cooks' favorites such as specialty culinary herbs, Asian greens and edible flowers
Heirloom varieties that maintain plant heritage
Pollinator plants to support ecosystem and agriculture health
Learn About Gardening
Tilth Alliance is known for its educational programs for adults and kids in sustainable urban agriculture. At this sale, garden tips will be available on signs, educators will be available to answer questions, and books will be available, making it easy for shoppers to make plant selections and learn basic gardening information. Some organic gardening supplies will be on hand including organic seeds, worm bins and cloche kits.
Get Involved
Community members are invited to get involved to help make this event a success!
Volunteer. Over 150 community members lend a hand and enjoy snacks, teamwork and an invitation to our Early Bird Plant Sale.
Come to our Early Bird Plant Sale. Get first pick of the plants while raising additional funds for Tilth Alliance on Friday, March 17, 5-6:30 p.m., $25.
Saturday, March 18
9 a.m.-3 p.m.
Orca K-8 School
5215 46th Ave S, Seattle 98118
Get directions.
Visit our website.

# # #
Facebook Post Sample
Grow food! Stock up on organically grown veggie, herb, flower and fruit plants on Sat., March 18 at Tilth Alliance's #MarchEdiblePlantSale in Rainier Valley at Orca K-8 School. Learn more: http://bit.ly/1QGkK7d

Tweet Sample
Grow food! Shop organic veggie/herb/fruit plants on Sat, March 18 at @tilthalliance's March Edible Plant Sale. http://bit.ly/1QGkK7d

# # #
Media Contact
Liza Burke
Communications Director
Tilth Alliance
4649 Sunnyside Ave N., Suite 100
Seattle, WA 98103
(206) 633-0451 ext. 103
lizaburke@tilthalliance.org
www.tilthalliance.org
Visit our website for a full list of plants and to learn more about our growers.


About Tilth Alliance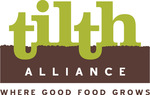 Seattle Tilth, Tilth Producers and Cascade Harvest Coalition are now Tilth Alliance! We're working towards a culture that places healthy, nutritious and locally grown food front and center because everyone deserves to eat well every day.

Our mission is to build an ecologically sound, economically viable and socially equitable food system.

4649 Sunnyside Ave. N., Suite 100, Seattle, WA 98103
(206) 633-0451
www.tilthalliance.org | info@tilthalliance.org


###
Document Actions