FOR IMMEDIATE RELEASE
Experience Harvest Season!
Seattle Tilth's Annual Harvest Fair Celebrates Local Bounty
Find out about Seattle's urban farm festival!
Aug 13, 2014
After an especially hot Seattle summer, local farms and gardens are overflowing with colorful and delicious produce. Experience the amazing flavors of summer! Seattle Tilth's Harvest Fair invites you to participate in fun activities to enjoy harvest season and glean some ideas and inspiration to take advantage of the bounty. Now in its 27th year, this family friendly festival is on Saturday, September 6, 10 a.m.-4 p.m. at Meridian Park (4649 Sunnyside Ave. N., Seattle).

Seattle Tilth's Harvest Fair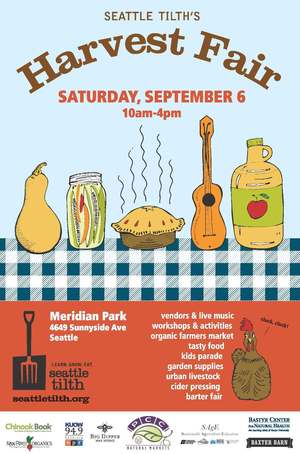 Saturday, September 6; 10 a.m.-4 p.m.
Meridian Park (4649 Sunnyside Ave. N, Seattle)
Get directions.
Facebook event.

Join in the fun! Press cider from local apples, enjoy tasty food, nuzzle a goat or chicken, make an herb crown, listen to live music and join the parade. Local and organic farm stands will be overflowing with fresh produce at the height of harvest season. The Harvest Fair is a great place to stock-up on fresh foods, farm crafts, native and edible plants, garden supplies and sustainable goods. You can also learn tips for canning and cooking -- or bring goods to trade at the barter organized by Backyard Barter.

See the full schedule of activities and the list of participating farmers, vendors and organizations.

Activities include:
Workshops

Live music

Local food trucks and tents

Organic farmers market

Urban farm demonstration

Sustainable vendors

Kids parade (noon)

Barter (1-3 p.m.)

Canning and cooking demonstrations

Cider pressing

DIY herb crowns

Seed swap

Raffle

Kids crafts in the children's garden

Volunteers are needed to help make it all happen and volunteering is a fun way to participate. Sign-up to volunteer!


Thanks to our fantastic sponsors including PCC Natural Markets, Big Dipper Wax Works and media sponsor KUOW. Admission is free but donations are encouraged at the entrances to help cover event costs.


###

FACEBOOK POST
Celebrate harvest season! Enjoy tasty food, live music and family friendly activities at Seattle Tilth's Harvest Fair on Saturday, Sept 6, in Wallingford. http://seattletilth.org/special_events/special_events/seattletilthharvestfair

TWEET
Don't miss Harvest Fair! Tasty food, organic vendors, live music, workshops. Sat, Sep 6, Wallingford. #seattletilth http://bit.ly/1vIYYuF


###

About Seattle Tilth
Seattle Tilth inspires and educates people to safeguard our natural resources while building an equitable and sustainable local food system. We have been providing hands-on education in organic agriculture for 36 years. We believe that all people deserve access to healthy, nutritious food and that changing the way in which we grow, cook and eat food has the potential to transform people's lives as well as the communities in which we live. Seattle Tilth offers classes in organic gardening, urban livestock, permaculture design, food preservation, teacher trainings and kids summer camps. Find out more at www.seattletilth.org.
###
Document Actions