FOR IMMEDIATE RELEASE
Summer Garden & Farm Camps Promote Healthy Kids
Jun 04, 2014


Dig It: Summer Garden & Farm Camps Promote Healthy Kids

Reports show that American children look at a screen for several hours each day while spending just a few minutes outdoors. The more good experiences children have learning outdoors, the more likely they are to build healthy lifelong habits offered by the outdoors that include exercise, play, lear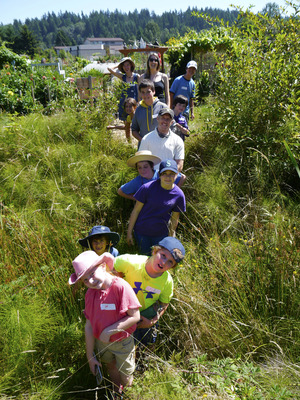 ning, fresh air, care for the environment and healthy eating.

At Seattle Tilth summer camps, children ages 1-14 experience the life of a garden or farm. In a typical week, children work together to nurture veggies, harvest and prepare food, sing songs, play games, study insects, marvel at worms and examine compost. Favorite activities include making sorbet from freshly picked fruit, building bug houses, creating journals and preapring pizza from farm fresh ingredients.

Campers gain friendships, a deeper connection to the earth and a renewed inspiration for learning. Seattle Tilth educators have been teaching children for thirty years, from curriculum we call "Teaching Peace Through Gardening." Camps are offered at our Children's Garden at the Good Shepherd Center in North Seattle, at our Rainier Beach Learning Garden and Rainier Beach Urban Farm and Wetlands in Southeast Seattle, and at 21 Acres farm in Woodinville. Find out more about Seattle Tilth's summer camps.

More about Summer Farm Camp at 21 Acres
21 Acres is a beautiful organic farm in Woodinville that will provide up to three weeks full of fun adventures for kids ages 7-11 in July. Kids will have the chance to grow, harvest and eat food direclty from the farm while learning about the natural world. Camps dates:

Grow a Pizza: July 7–11
Telling Farm Tales: July 14–18
Explore and Create: July 21–25

Find out about camps at 21 Acres.


Garden Educator Workshops for Teachers
A school garden is an ideal place to get children excited about learning. Seattle Tilth's Garden Educator Workshop: Summer Intensive allows educators to learn a wide variety of skills and techniques for cultivating and maintaining a schoolyard garden and garden education program. The course is a full week, from July 14-18; 9 a.m.-3 p.m. Teachers earn clock hours.
###
Document Actions